Generations
Organizations & Charities

Diane and Helen Graebner are both quite active in their communities. Below are some of the organizations and charities in which they volunteer. Please consider visiting the links to get more information, volunteer, or make a contribution!
---
SPCA of Central Florida
Although Diane doesn't have as much time (or money) as she'd like to donate to the local chapter of the SPCA, Diane does participate in a couple of sponsored events each year benefiting the SPCA. Her two dogs, Isabella and Ike join Diane for the annual "Paws in the Park" walkathon at Lake Eola in Orlando, FL!
---
Sandusky, OH Merry-Go-Round Museum
Diane volunteered as a tour guide at the historic Merry-Go-Round Museum in Sandusky, OH. The museum was built originally as a place to celebrate the first day of issue of a series of US Postage stamps, featuring two of the hand-carved carousel horses from Cedar Point Amusement Park. Diane's Father, Bruce, who was a carousel afficianado began guiding tours at the museum, and Diane soon followed. The whole family volunteered at the museum, with Diane guiding tours, her Father running the carousel and guiding tours, and her Mother working in the gift shop!
---
Heroes on Horseback
Diane volunteered in an organization called "Heroes on Horseback". "Heroes" is part of the North American Riding for the Handicapped Association (NARHA). According to NARHA, "For individuals with disabilities, equine-assisted activities have been shown to improve muscle tone, balance, posture, coordination, motor development as well as emotional well-being. And it's fun!"
---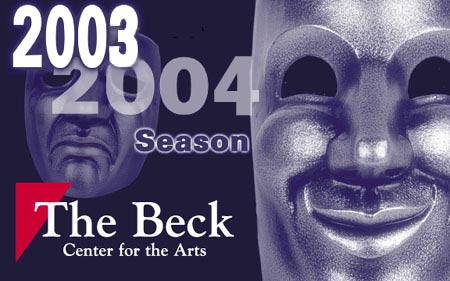 The Beck Center for the Arts
Helen worked at the Beck Center For the Arts in Lakewood, Ohio. She served on the board and was also a volunteer usher. Helen and Diane have both shared a love of the Theatre over the years.
---
Up With People
One of the best things to happen to Diane in her life was the discovery of Up With People! After a year on the road with the group, Diane had friends from all over the world, not to mention the educational experiences and opportunities she encountered along the way. Up With People is a non-profit organization, and depends upon contributions and "gifts in kind" to maintain the program. Visit their website to learn more. If you're between the ages of 18 and 29, you may just decide to join them!
---
Boy Scouts of America and Girl Scouts of America
Helen and Albert Graebner were both extremely active in the Boy Scouts, as was their son Bruce. In fact, Bruce was an Eagle Scout and Albert was awarded the Silver Beaver award for his service to scouting. Helen and her family attended a great many scouting activities, including several Boy Scout Jamborees. Albert Graebner's ashes were scattered at Philmont Boy Scout Camp upon his death.
Diane Graebner and her mother, Marilyn, were both active in Brownies and Girl Scouts. Marilyn was Diane's Scout leader in Jr. Scouts and the Brownies. Diane went on to become an assistant Brownie leader while she was in High School in Flint, Michigan.
---
Youth Organization Umbrella
In 1971, the Evanston, Illinois Youth Commission appointed a task force to assess the unmet needs of youth and to develop an effective response. This task force founded Youth Organizations Umbrella, Inc. (Y.O.U.), a youth service agency. Y.O.U. reaches out to young people ages 10 to 18 and their families in response to their ever-changing needs for support, guidance, and advocacy. It is their goal that all young people acquire the skills, self-confidence, and opportunity to participate fully, freely, and responsibly in the life of the community. Donald Baker, who is Diane's Uncle on her mother's side, was Founding Director of this extremely important organization!